???????
From Joanne:

Don't think of him as gone away-
His Journey's just began,
Life holds so many facets-
This earth is only one.

Just think of him as resting
From the sorrows and the tears
in a place of warmth and comfort
Where there are no days or years.

Think how he must be wishing
That you could know today
Now nothing but your sadness
can really pass away.

And think of him as living
In the hearts of those he touched
For nothing loved is ever lost -
And he was loved so much ?
From Flutterbye,Guinealynx
I thought of you with love today
But that is nothing new
I thought about you yesterday
And days before that too
I think of you in silence
I often speak your name
Now all I have are memories
And your picture in a frame
Your memory is my keepsake
With which I?ll never part
God has you in his keeping
I have you in my heart.

~Author unknown
"ahem...! I may look *a bit* like a girl in that drawing but I assure you I am a MAN!"
"A man with no balls...*cough* apparently....
*cough*....
"
"The girls are being mean to me again!!"
Puffy also has a buddy friend over in the UK
Puffy has some hairy competition.
Meet Milo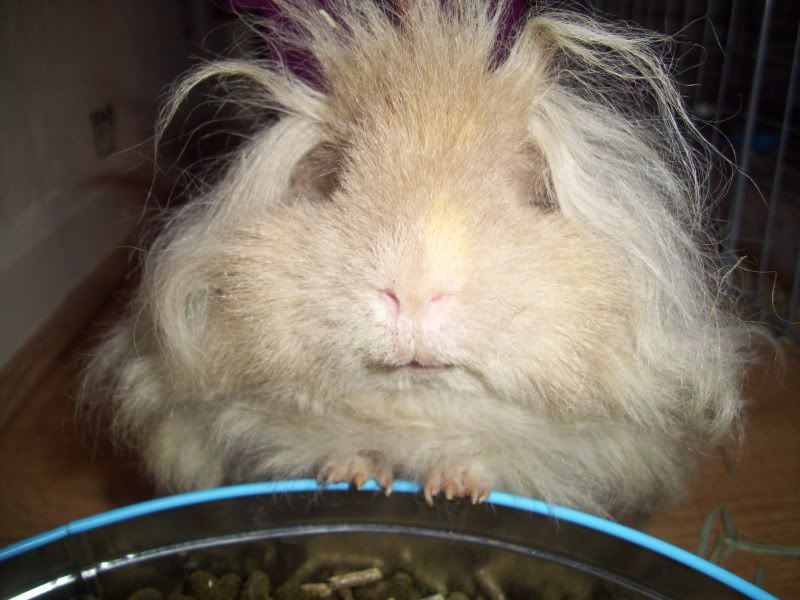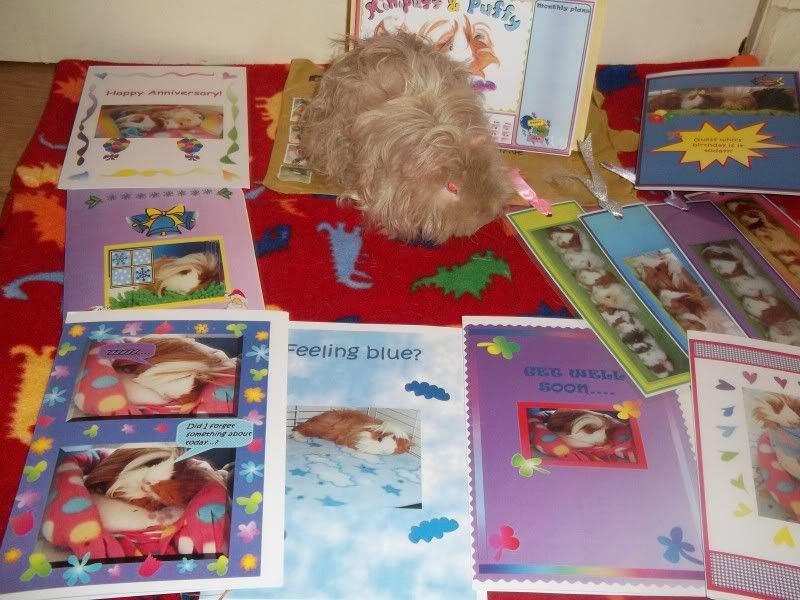 Nibbler, from the UK
Puffy is such a charmer in front of the ladies (myself included). Although he never stood much of a survival chance against his own gender...
Among them, he shared a Fairytale Friendship with the internationally famous Fairy Mittens
Fairy has an announcement to make!
She just got a Puffy Mail
Mariella
Marigold
*blushing*
Poetry
From Mildred
There once was a piggy whose hair
Went here there and everywhere!
He got it all washed
It went flat - All squashed
But the girls - they just didn't care!
and Ian
Puffy is quite a small boar
Like Tom Cruise, he isn't too tall,
He has long fluffy curls
And an eye for the girls
Which is why he's a daddy times four!!
From Caviecuddler
Puffy has long silken locks
And the sweetest white furry socks
He loves grumbling all day
And snoozing in hay
Just like Fairy, He rocks!
From Weggie
Puffy is so fluffy
He has a lot of hair
He yawns alot
and Sere takes shots
But I bet he doesn't care!


PJ is a handsome pig
He is so nice and fluffy
He really is so cool
and nobody's fool
Unlike that silly boy Puffy!
From Wle312
There once was a piggy named Puffy,
Who was always taking a huffy,
Cos all the girls know,
They are the fat sows,
And he's only tiny and fluffy!
From Poppycorn
There once was a lovely pig named Shylie,
She was so beautiful and smiley,
She sniggered and laughed,
That Puffy was as annoying as a draft,
And dismissed his attempts so very dryly!
From Amy
Puffy's long hair is so curly,
And while he's not very big or so burly,
I'd love his attention
and return his affection
If I were a guinea pig girlie.
A Haiku by Kim Oliver

GUINEA PIGS SO SWEET
SQUEAKING AND EATING THEY SLEEP
SOFT BUNDLES OF LOVE
By NocableisSafe